How To Preserve Your Mental Health During the Holidays
CLAUSE DE NON-RESPONSABILITÉ
Ce blog n'a pas été approuvé par votre service de santé local et n'est pas destiné à fournir un diagnostic, un traitement ou un avis médical. Lire la suite

Ce blog n'a pas été approuvé par votre service de santé local et n'est pas destiné à fournir un diagnostic, un traitement ou un avis médical. Le contenu de ce blog est fourni à titre informatif uniquement. Veuillez consulter un médecin ou un autre professionnel de santé pour tout diagnostic ou traitement médical ou lié à la santé. Les informations de ce blog ne doivent pas être considérées comme un substitut aux conseils d'un professionnel de santé. Les affirmations concernant des produits spécifiques sur ce blog ne sont pas approuvées pour diagnostiquer, traiter, guérir ou prévenir des maladies.
Dans cet article :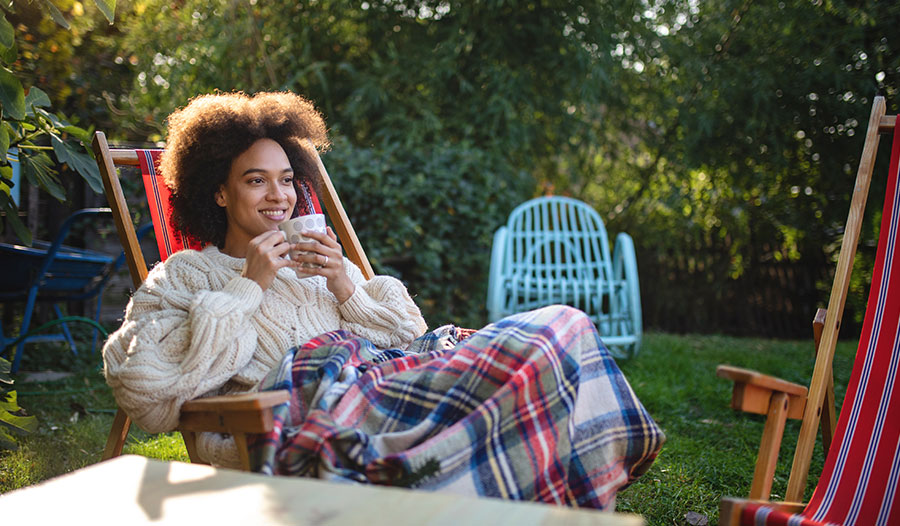 You've hosted your family and in-laws, planned fun events, and got the big Thanksgiving meal on the table (somewhat) on time. This holiday's planning is officially taken care of, but can you confidently say the same for yourself?
While the holidays are often a time of reflection and connection with friends and family, it's imperative to remember to spend time with yourself, too. Of course, this is easier said than done. Preserving your mental health can sound easy to accomplish on paper, but for many, the reality is that creating space for your own self-care can feel more like a chore on your to-do list or an unattainable luxury, especially during the busy holiday season.
While caring for one's own self looks different for everyone, keep reading to learn why it is essential during the holiday season. Remember, it doesn't have to be lavish, expensive, or time-consuming.
You'll also uncover four of the key benefits you can expect to experience when you dedicate time to your needs. The best part is that these newly-discovered benefits will last well beyond the holidays.
Why Your Mental Health Is Important During the Holidays
Caring for your needs should, ideally, always be a priority in your life. Whether the acts are big or small, spontaneous or well-planned, emotional or physical—they're all essential, and they all have a positive impact.
When the holidays roll around, your mental health is just as—if not more—crucial during these busy winter months than any time of the year. That's because personal and work schedules become hectic, and you may find yourself feeling burned out quicker than usual due to the added stress of the holidays. Add in a global pandemic that just won't quit and we're all feeling overwhelmed faster than before.
With these increased feelings of burnout—physically, emotionally, and mentally—it's essential to step up your self-care before it's too late. If not, there can be negative consequences to your overall health and wellness, and at this time in our world, our health is one of the most critical aspects of our lives to nurture and protect.
As you head into the holiday season, keep in mind the reasons why self-care is so essential this time of year. Keep reading to learn more and, hopefully, stay inspired to care for your needs when the holidays come around. Remember, self-care is only a chore if you make it one, regardless of how busy you are.
1. Self-Care Can Positively Impact Your Mental Health
It's now pretty well known that self-care can positively affect your mental health. From decreased feelings of overwhelm and anxiety to an increased capability of coping during stressful times, it's clear that caring for and prioritizing your needs is non-negotiable.
And it's no secret that the holiday season is often a stressful time for many. We are running around making sure everything is running smoothly, schedules are often jam-packed, and we're trying our best to show up for gatherings with friends and family—both literally and figuratively. Without proper care, feelings of anxiety and overwhelm can quickly take over, causing the holidays to feel even more intense than before.
So, make sure your self-care practice sticks around when the weather starts to turn colder. Do your best to make it a priority, whether it's 30 seconds or 30 minutes a day; every moment of self-care can help protect your mental health and wellness. After all, your mental health is just as important as your physical health, and it deserves support, too.
2. Self-Care Can Boost Your Immune System
We know that our immune systems seem to need a little more support in the colder winter months to stay functioning at their best and help us avoid getting sick. We also know that chronic stress is one of the quickest ways to affect your immune system negatively. One study shows that when stress becomes chronic, more components of the immune system are affected in a potentially detrimental way.
Where does self-care come into play? Well, as mentioned above, regular self-care can help you better manage yourself during stressful times. The better we regulate ourselves and respond to stress more positively, the more likely it is that our immune system will benefit from it, too.
Aside from managing your stress levels, you can boost your immune system with these simple self-care practices:
Calm down your nervous system and take three deep breaths as needed

Take your supplements daily, including a

vitamin D supplement

during the winter months

Give yourself more rest breaks throughout the day

Drink plenty of water and include

hydrating electrolytes

often

Eat a variety of seasonal fruits and vegetables

Add in

elderberry

and

echinacea

to your daily supplement routine for the winter
So, when you feel the stress of the holiday season begin to pile up, make sure that you call on your tried and true self-care practices. Not only will you feel better, but you'll also help boost your immune system in the process. While you're at it, introduce a few from the list above to make sure you cover all of your bases.
3. You'll Feel More Present with Loved Ones
Aside from supporting your mental health and immune system, self-care is a powerful way to help you feel more present in your daily life. This benefit of self-care is significant during the holidays, as it's easy to become overwhelmed with your to-do list and not sit back and enjoy the time with loved ones. Often, the more present you are, the better you'll feel.
You can begin to harness the power of self-care to feel more present by first acknowledging any negative emotions or feelings popping up. Get more comfortable with them and do your best to figure out why they're there in the first place. Then, communicate them to others (if needed), do your best to accept or welcome them, and try to let them go. This simple practice of acknowledgment is very beneficial for the holiday season, especially when expectations—and tensions—are high.
Once you've addressed the negative, it's time to focus on the positive. Start by listing out three moments, things, or people that you're grateful to have in your life. This practice is especially powerful when you are in the same room with loved ones. Give yourself a moment to look around and count your blessings. You may become more compelled to show up wholly when you realize how lucky you are.
4. You Can Tend to Your Physical Needs
It's important to mention that holiday self-care can help your physical self-care practice flourish as well. There are a few simple things you can do to tend to yourself during the colder winter months, all while focusing on reaping the benefits of self-care.
Invest in a

hydrating face cream

to protect your skin from the cold winter air.

Get outside for at least 20 minutes a day—rain or shine.

Use a

cuticle cream

to help keep your nails healthy.

Apply an all-over

body lotion

to combat dry skin.
Take a moment to think about how you can make your current physical self-care routine more reflective of the winter season, and ultimately, more supportive for yourself.
5. The Holidays Can Feel More Enjoyable
Ultimately, we cannot fully control how the holiday season plays out. What is in your control is how you respond and react to situations that arise or spontaneously go sideways. When you approach stressful situations with a solid foundation of self-care, you're better able to adapt, react, and respond in ways that feel aligned with the version of yourself you'd like to present to the world. While this change may not happen overnight and may take some steady practice, the payoff is ultimately worth it in the end.
Also, when you become more aligned with yourself, the boundaries and limits you need to set with yourself and others will quickly become more apparent. Often, giving too much of ourselves to others—especially during holiday time—can cause extra stress physically, emotionally, and even financially. The more confident and well-communicated your boundaries are, the more enjoyable the holiday season can become.
Don't Forget About You During the Holiday Season
Imagine how your holidays could look when approached with the mindset of caring for yourself. No, really. Sit back, close your eyes, and take a moment to visualize what this time of year could look like— and more importantly, feel like—if you ensured that you took care of yourself mind, body, and soul before showing up for others.
Would you feel more inclined to make an effort with those you love? Would you feel more prepared to face last-minute travel changes with calm instead of overwhelm? Would you feel more prepared and organized so you could fully be present in the moment instead of running around like crazy?
This version of holiday self-care will look different for everyone, so it's critical to take a moment to visualize what it would look like for you. Then, set the intention to make it your reality and take careful notes of the changes you feel and see as you move throughout the holiday season this year. Don't get discouraged if some of the changes you make around your self-care feel tricky or complicated; just make a mental note and move forward in a way that honors what you need.
Ultimately, while the holidays can feel like an intimidating time to embark on self-care, consider that they might also be the perfect opportunity for change. Perhaps you'll see the most difference in how you feel and how you show up, and maybe, the ones you love most will see those changes, too.
References:
https://www.ncbi.nlm.nih.gov/pmc/articles/PMC1361287/